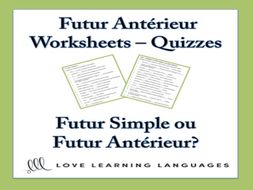 GCSE FRENCH: Futur Antérieur Worksheets - Quizzes
Two things are very important when teaching the French futur antérieur tense. First, students need to know how this tense is formed and then they need to understand how and when to use it. Here is a set of two worksheets that can also be used as homework or quizzes.

One worksheet focuses on formation of the futur antérieur while the other one has students choose between using the futur simple and the futur antérieur. Subjects or subject pronouns and infinitives are provided and students must fill in the blanks according to context. Each worksheet contains 15 sentences and answer keys are provided.
Read more
About this resource
Info
Created: Apr 27, 2017
Updated: Feb 22, 2018
Get this resource as part of a bundle 0