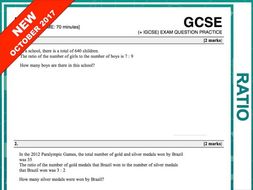 GCSE Maths Revision
GCSE maths revision questions with fully-worked solutions designed for students to go through at home, saving valuable time in class.
Click -->https://tes.com/.../Exam Practice to download revision questions for 50 other topics.
---
This particular compilation has a lovely selection of exam questions on Ratio. The questions are suitable for Y8 upwards; they are perfect for Foundation students and also good practice for Higher.
These booklets are great for independent study, for a homework, or for working together in class.