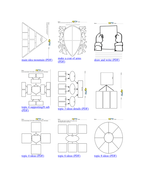 General ELA graphic organizers
This resource contains about 70 Graphic Organizers, mostly for English Language Arts instruction. Aligned to Common Core State Standards: L.K.5, L.1.5
Read more
About this resource
Info
Created: Jul 28, 2015
Updated: Aug 19, 2015
Other resources by this author
This resource contains about 70 Graphic Organizers, mostly for English Language Arts instruction. Aligned to Common Core State Standards: L.K.5, L.1.5
farheenmalik
The attached document includes fact sheets on birds to use in a life science lesson with Grades 1-2.
farheenmalik
Popular paid resources
Intended to be printed and laminated for a wall display on literary devices. Uses examples from a lot of modern films (lots of Harry Potter!) to ma...
ameliapeelia
30 pages of phonics activities perfect for practising alien words from phase 2-5 for the Phonics screening check.
littlemisstechnical
10 fully resourced lessons to prepare students for the AQA English Language Paper 2, Section A exam: 'Writer's Viewpoints and Perspectives'. This r...
RojoResources
New resources
A picture tells a thousand words. The brain can remember images much easier than it can a large tract of text. Indeed when memory experts try and r...
IQResources
This lesson is at best an introduction to and at worse a reminder about a very useful revision technique. There are various different titles for us...
IQResources
This lesson gets the students to complete a range of tasks that will aid their revision but under the title of creating a news report. This lesson ...
IQResources
Updated resources
A thorough analysis of the poem, 'My Last Duchess' by Robert Browning. For high-ability students aiming for level 8/9. Spanning two lessons, this r...
Sandy118
Here is my most successful unit! Every year, children produce fantastic writing. I have used it in Year 5, but it could be easily adapted for use i...
extra golden-time
**Cursive Version ** This pack contains spelling sheets for all the Year 1 Common Exception Words. They have been organised with words that have th...
FunkyPhonics