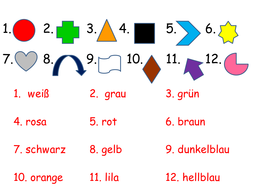 German colors Stile Tray activity with answers
This activity can be done as a simple matching but was designed to be used with a Stile Tray. Students move the tiles (with red numbers) into the spaces in the tray (with black numbers). They can check their answers by flipping their Stile tray and comparing the shape with slide 2 of the powerpoint.
This resource is designed for US teachers. View UK version .
Other resources by this author
I always use mime to teach numbers - 1 is a Greek urn, 2 Marge Simpson's hair but &'say deux&'; not 'doh&', for 3 twang a 3-sided catapult, use 4 f...
LB18
Booklet with general vocabulary and structures for reference at the start of a German course.German and English meanings are given as well as help ...
LB18
A glossary booklet. It has English and German vocabulary as well as some 'if it's red, it's how it's said' pronunciation help (thanks to Mrs. Griml...
LB18
Popular paid resources
A collection of six resources for able GCSE students designed to help them confidently use some quality idioms
pinkfloyd73
Two 1 hour lessons based on p102-103 of Stimmt 1 book. To be used with Pearson Learn online book, as there are listening activities involved. 1st l...
chloeb1995
Series of PP 8 different free-time activities in 'ich' form with pictures and animated slides for a variety of games as well as Tic Tac Toe slides....
sammi--
New resources
Quiz quiz trade cards for internet activities with gern and nicht gern and frequency phrases
nilex
This resource introduces 14 pets with a range of practice activities. It introduces the question 'Hast du ein Haustier?' and a range of possible an...
cgazzal
Reading and writing resources to support "in meinem Leben" and "Mein Vorbild". Easy to print and edit. Can be used as classwork...
rooney33
Updated resources
A template with all speaking questions for GCSE Edexcel German from the textbook and the Edexcel website. Subdivided by theme, they can be laminate...
elomelia
this is a selection of texts and articles taken from the sources that the IB likes to use for the Paper 1 exams in Abinitio German. As the Paper 1 ...
Juls2110
A collection of six resources for able GCSE students designed to help them confidently use some quality idioms
pinkfloyd73