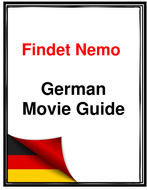 GERMAN Findet Nemo Film Guide
This movie guide was created to go with the film Finding Nemo in German. It includes 6 pages that go chronologically with the film. Each page has a vocab list for the film section, comprehension questions and extension activity.

It is written to be used in all levels of German but would be most appropriate in levels 1-3.

Word file.
Read more