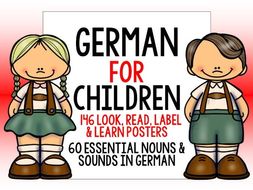 GERMAN FOR CHILDREN - 146 LOOK, READ, LABEL & LEARN POSTERS WITH READING / PRONUNCIATION ACTIVITIES
CREATE AN INSTANT INTRODUCTION TO ELEMENTARY GERMAN IN YOUR CLASSROOM WITH THIS SET OF 146 LOOK, READ, LABEL AND LEARN A4 (8.5 x 11) POSTERS FEATURING 60 ESSENTIAL FIRST GERMAN WORDS - PERFECT FOR DEVELOPING LANGUAGE SKILLS AND DECORATING YOUR CLASSROOM!

This pack, with whole-group reading and pronunciation practice activities, features 60 high-frequency nouns and sounds in GERMAN. There are 73 display posters, and 73 design posters for children to label and decorate. The posters focus on the definite article in masculine, feminine and neuter, singular and plural. They introduce children to the 'look' and 'sounds' of GERMAN from the very beginning of their learning, providing them with multi-skill learning opportunities: reading, spelling, listening, speaking and pronunciation, as well as engaging with basic writing to develop their confidence in GERMAN.

The words featured are:
the airplane
the apple
the ball
the boat
the book/s
the bottle of water
the boy
the bread
the breakfast
my brother/s
the butterfly
the car
the castle
the cat/s
the caterpillar
the chair
the cheese
the child/children
the chocolate
the classroom
the clock
the dinosaur/s
the dog/s
the door
my family
my father
the flower/s
the game
Germany
the German flag
the girl/s
my grandfather
my grandmother
the guitar
the hat
the house/s
the ice-cream
the key
the kites
I (boy/girl)
the milk
the moon
my mother
the pencil
the question
the rainbow
the rose
the school
the shoes
my sister/s
the stars
the sun
the table
the train/s
the tree/s
the umbrella
the window
the world
the xylophone
the zoo

Introduce and practisc the words, encouraging children to repeat the words in their best GERMAN accent, drawing attention to particular features of GERMAN, such as umlauts and the role they play in pronunciation. Developing accurate pronunciation is something that does require a lot of frequent and regular practice, so use the activity as often as you can across both a short and longer-term series of lessons, and the entire school year.

There are nine non-editable files in a zipped format:

- The Design and Display posters, with mini-reference cards x 3
- The reading and pronunciation practice activity x 3
- The reading and pronunciation practice activity in a format you can use on a tablet or
similar device, promoting more independent learning in the classroom, and is perfect for your
home school too x 3

Each set is also available individually, priced at $5.00.

VIELEN DANK UND VIEL SPAß!
Read more