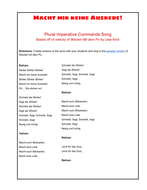 GERMAN Plural Imperative Commands Song
Inspired by Uwe Kind's Wackel Mit dem Po comes the plural imperative commands form song Macht mir Keine Ausrede! Don't Make me any Excuses!

The song is written to be the perspective of a teacher who is talking to their students about proper studious behaviors. Add in some fun actions and kids will have fun learning plural commands. They'll even start to monitor each other's behavior.
Read more