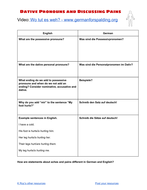 GERMAN Video Guide: Wo tut es weh?
This is a video guide for a Youtube video that includes a good explanation of how to use both possessive pronouns and dative pronouns to discuss aches and pains.

The video guide can serve as a lesson support, homework assignment, online course lesson guide or as a flipped classroom assignment.
Read more