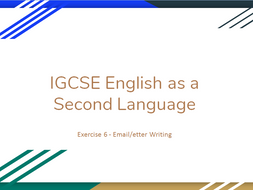 Guide to completing IGCSE English as a Second Language (0510/0511) Exercise 6 - Letter/Email writing
This is a comprehensive PowerPoint that breaks down an exam question from 2016. It shows students exactly what they must do to achieve a high grade and dissects a sample answer, highlighting the areas that are key. I made this as I felt I did not have access to a resource of the same ilk and feel that it is something all IGCSE ESL students, teachers and tutors can benefit from.

Included is the full PowerPoint presentation and a Word doc of the question and sample answer for student reference.An extension activity could see students highlighting and identifying the verb tense being used in each sentence of the sample answer.
Read more