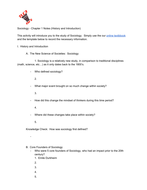 Guided Reading & Notes: Introduction to Sociology
Give your students an opportunity to gain prerequisite understanding. This activity will help students frame the topics that are associated with the study of sociology. Students are asked to read from a resource and analyze some interesting statistics. After, or as they read, students will pull key information from the resource and record it on to a notes template.

Everything you need is included with this lesson: directions, resource link, and a notes template. This activity aligns easily to CCSS and is conducted in a way that allows for all students to be successful.
Read more