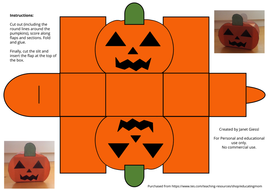 Halloween Pumpkin Gift Box
Two sheets for creating a Halloween pumpkin gift box with instructions and images of a finished gift box. PDF format. This will make little gift boxes. If you want to create larger ones, just copy and print the sheets on larger sized papers (A3, for example).

For Personal and educational use (classroom, homeschooling) only. No commercial use. This gift box is both available in a colored and black and white version.
Read more