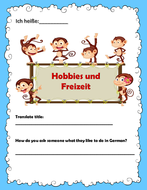 Hobbies und Freizeit für Anfänger - For German Beginners
30 minute activity for German students who are first learning to discuss likes and dislikes. They write a some guided questions, work with a partner to answer their questions, rehearse and present.

This activity is engaging and motivating because it gets them speaking on a new topic the same day!
Read more