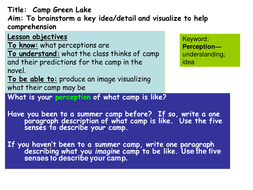 Holes pre-reading poster
This activity has students visualizing what Camp Green Lake looks like by drawing a picture and creating an advertizement. Students then reading the beginning of the novel, and create the 'reality version' of Camp Green Lake to compare and contrast their perceptions based upon the name and their own experiences with the realities of the real camp presented in the novel. Aligned with Common Core State Standard: RL.7.9
About this resource
Info
Created: Jul 28, 2015
Updated: Aug 19, 2015
Categories & Grades
Other resources by this author
Used for an observation; adapted from a resource given to me by another teacher.
gradteacher
This PowerPoint was prepared to use before reading the novel. It has information about the author and some images to help students visualize the ti...
gradteacher
I have occasionally used this lesson at the end of a quarter to have students practice words and usage. This lesson prompts students to look words ...
gradteacher
Popular paid resources
Contains a full and detailed guide for students that are targeting top grades (8 and 9) English Literature - Edexcel Step by step guide for answer...
harishkohli
This is the ultimate revision tool for the Y6 Reading SATS test! Get ready for the 2018 KS2 reading assessments with this SATS Question Generator! ...
KS2History
AQA English Literature lessons for all three questions of the Paper 2 Exam. Using the AQA Spec material 3 as a foundation, each lesson provides a c...
spidermatt
New resources
A simple work sheet getting students to engage with the poem in an analytical manner. Ideal as cover work or revision
lizziedc92
Editable and changeable P.E.E. table format, with space for students to plan different points they want to make in their analytical writing.
aliceboyd1995
Created by a team of excellent teachers and designers, these are specially designed resources related to three of Lovecraft's timeless works: The W...
natasha717
Updated resources
I use this with my pupils in Year 3 to show what I am looking for in their piece of work. This also is used for them to colour the smiley faces if ...
franmorris2810
Here are 24 new grammar dice games to inject some fun and creativity into grammar sessions. This is an 112 page word document containing 24 fun gra...
extra golden-time
Included: detailed lesson plan, presentation, two personification generator dice activities This is a carefully planned, fully resourced and differ...
extra golden-time