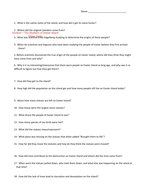 Horizon: Mystery of Easter Island Movie Guide Quiz
I used this as a review quiz after watching the Horizon Film: Mystery of Easter Island (available on youtube). It contains 21 questions specifically about the movie followed by 4 questions from our introduction to Environmental Science - Topics: Renewable vs Nonrenewable resources, Tragedy of the Commons, Sustainability, Difference between Environmental Science and Ecology and Environmentalism, and Ecological Footprints.

Full answer key included as a separate word document for ease of grading. 25 questions total on 2 pages. Some short answer some more in depth. ALSO contains a second copy of the answer key with suggested point values for each question.
Read more
About this resource
Info
Created: Feb 7, 2016
Updated: Feb 22, 2018