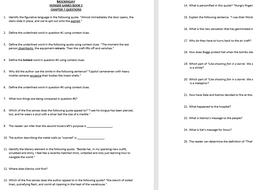 HUNGER GAMES BK 3, Mockingjay, Short Answer Chapter Questions
HUNGER GAMES BK 3: 27 Chapters of short answer questions that includes figurative language, comprehension, vocabulary, and critical thinking. I would have student answer these as they read. Then use the MULTIPLE CHOICE QUIZZES (LISTED SEPARATELY) the following day to check for comprehension and memory. Great for homeschool or homework unit.
Thanks so much for your purchase. Please tell your friends and family. Email me at zelayaa.az@gmail.com if you need any type of product developed.
Read more