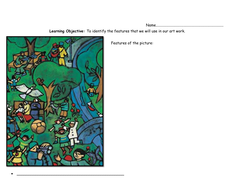 If the world were a village art handout
I used this when we were looking at the book 'If the World were a Village'. The children drew 100 people (a theme that runs through the book) in the style that was used in the book. This sheet helped them to do that.
This resource is designed for US teachers. View UK version .
Other resources by this author
I have created these question cards based on the 2008 maths SATs paper. They could be used as a more interesting method of revision in the run-up t...
rach_myname
I made this document for parents whose children will be starting Reception in September. The information is based on the new EYFS framework. Please...
rach_myname
I've created this continuous provision document based on the new 2012 Development Matters. I hope you can find it useful.
rach_myname
Popular paid resources
Sock Monkey Soft Toy - Full lesson by lesson scheme of work & lesson powerpoint key stage 3 project The project transforms recycled socks into ...
merk90
Powerpoint showing several photos of Roman shields that I made leading into an activity where children design their own Roman shield based on certa...
dave_orritt
This collection includes a Mid-Term Planning resource that introduces the life and work of Mexican Artist; Frida Kahlo through the use of Portraitu...
crigdon
New resources
Useful summary of the topic Technology in Everyday Life - using Kerboodle as a guide.
Backa
Get your students off to the best start possible with this timetable, ticklist, and top tips resources. Never again will you hear the question, 'Wh...
MissHardysResources
POWER POINT GCSE Mock Exam Launch, designed to accompany the iGCSE 2017 Art and Design paper: Possessions.
victoriasand
Updated resources
Looking for worksheets to help prevent Summer Slide for your graduating kindergarteners? Topics include addition, colors, shapes, and more. A print...
ABCmouseforTeachers
A selection of holiday and transport pictures to colour, decorate or display,
Lresources4teachers
Here are grade boundary prediction for AQA GCSE ART 2018. We are marking artwork using the new 0 to 96 marking system. This means that we have no p...
StartEducation