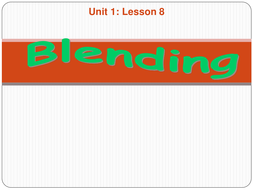 Imagine It (2008 ) Unit 1 Lesson 8
Blending and Mystery Word for Imagine It Unit 1 Back to School Lesson 8 that introduces the sound/spelling /i/ spelled i. For blending; as the letters come up students say the sound and blend the sounds together to create the word. In Mystery Word; students blend the sounds together to make a word.
About this resource
Info
Created: Jul 28, 2015
Updated: Aug 19, 2015
Categories & Grades
Other resources by this author
'Rosie's Walk' is the perfect story to assist students in learning about sequence of events in a story. Students listen to the story, put the pictu...
awalley2001
This PowerPoint shows examples of nouns and how to make them plural.
awalley2001
Students will listen to the story 'The Rainbow Fish' (http://www.storylineonline.net/) and answer the comprehension questions.
awalley2001
Popular paid resources
30 pages of phonics activities perfect for practising alien words from phase 2-5 for the Phonics screening check.
littlemisstechnical
A Variety of Literacy Tasks based on a Pirate Theme. Word mat provides useful words and phrases to support writing tasks. Pirate Character Descript...
Alice K
Spring /Easter Poetry Learning Intention : to compose Spring Poems/ Easter Poems PowerPoint presentation which provides a stimulus for a variety of...
Alice K
New resources
This engaging and informative lesson enables students to make detailed and precise interpretations of the character of Abel Magwitch in Great Expec...
TandLGuru
Poster title for my wall of 'amazing adjectives' for Year 2's to use in their English lessons. Also helps introduce alliteration!
laylala
Over 100 plenary ideas - make each lesson fun and varied with over 100 different ideas for plenaries, assessment activities and ways to sum up or e...
lordturner
Updated resources
A great pre-reading Guided Reading Activity. Genre: Fiction Appropriate for upper KS1 or KS2
Lresources4teachers
A simple INFERENCING Activity Students to identify words or phrases in a text, guess the meaning of the word/phrase then find and draw the meaning....
Lresources4teachers
Use a visual form of assessment that the children can see in real time as you comment on their online work using Google Apps. This resource has bee...
erinbrasington