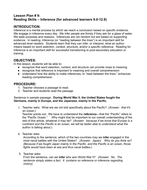 Inferencing Lesson Plan
Inferencing lesson plan for advanced learners.
Read more
About this resource
Info
Created: Jul 28, 2015
Updated: Aug 19, 2015
Report a problem
Categories & Grades
Other resources by this author
Resource to use when teaching Greek & Latin Roots to assist students with expanding their ability to decode unfamiliar words.
jmkeplar
Seven lessons (approximately 10 days); one day = 55 minutes. This unit provides students with a feast of Greek and Latin root words and a welldevel...
jmkeplar
Inferencing lesson plan for advanced learners.
jmkeplar
Popular paid resources
An easy to use Excel Spreadsheet to analyse the reading test scores from the 2018 KS1 SATs though Question Level Analysis (QLA). Both Papers 1 and ...
hgj11myu
Includes: KS1 2018 Maths SATs QLA KS1 2018 Reading SATs QLA KS1 2018 Spelling, Punctuation and Grammar SATs QLA Easy to use Excel Spreadsheets to a...
hgj11myu
This is a unit of work based on Monsters. It uses a short clip by John Lewis Advert called Monster under the bed as inspiration. There are two week...
rehanafazil
Updated resources
This download includes a complete, English lesson on the twenty-fifth chapter of the book Gangsta Granny by David Walliams. The lesson focuses on h...
TheGingerTeacher
This resource contains 45 illustrated posters with powerful images of some of William Shakespeare's quotes – some poignant, some comedic, some trag...
Krazikas
This resource is a 70- slide SIMPLE TEXT and fully editable assembly / lesson PowerPoint presentation on the life and work of William Shakespeare, ...
Krazikas
Related content