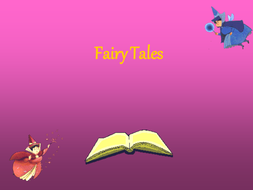 Introduction to Fairy Tales
A powerpoint outlining the main features of fairy tales.
This resource is designed for US teachers. View UK version .
Other resources by this author
Powerpoint presentation of a letter from an alien who has crash landed on Earth and wants to find out more about earthlings. Used in Year 1 as a st...
raffo32
Introduction to different types of sculpture and materials used. I see someone has had a problem downloading this resource - this may be due to the...
raffo32
Notebook presentation about different types of bears. I found it hard to get a book that suited what I wanted to do so made my own. Used it to help...
raffo32
Popular paid resources
Three pages to be used to support students with literacy and structuring answers for English Literature and Language Exams as well as general SPAG....
AmyJaney88
This black-and-white sheet offers creative writing and colouring opportunities for young children, with a snail as the subject. The huge, hand-draw...
katewilliams_poetry
Included: detailed lesson plan, presentation, two personification generator dice activities This is a carefully planned, fully resourced and differ...
extra golden-time
New resources
A simple work sheet getting students to engage with the poem in an analytical manner. Ideal as cover work or revision
lizziedc92
Editable and changeable P.E.E. table format, with space for students to plan different points they want to make in their analytical writing.
aliceboyd1995
Created by a team of excellent teachers and designers, these are specially designed resources related to three of Lovecraft's timeless works: The W...
natasha717
Updated resources
Tale as Old as Time - Beauty and The Beast Dance lyrics mp3 song comprehension sheet Movie: Beauty and the Beast Released: 2017 Nominations: Radio ...
tacss
The six activities were designed for individual students to develop their confidence in writing and in particular using description devices. A rang...
jorgill
A selection of resources designed to support KS4 students in revising for AQA's literature paper 1 A.
lizziedc92