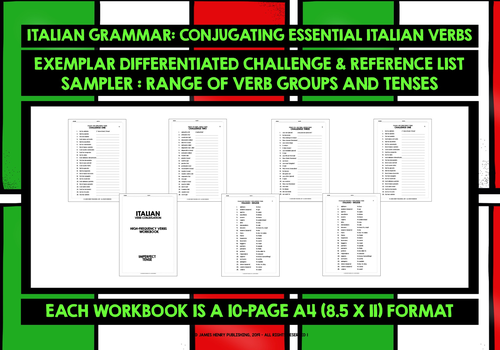 ITALIAN CONJUGATION DRILLS SAMPLER I've created a lot of 'quick conjugation workbooks' for my students and they're really popular and effective. They're a great way of practicing, reinforcing and revising how to conjugate all the various verb groups and tenses/moods in Italian. I use them in a range of learning contexts such as independent work either in class time or at home, holiday refresher work, or individual activities for sub lessons. Students really benefit from several opportunities to work through the workbook, once or twice a term across a whole school year is a great way of both mapping progress and developing overall understanding and competence.
My quick conjugation workbooks focus on 25 specific Italian verbs in a range of tenses. Each workbook is structured as follows:
= Two alphabetical verb reference lists: Italian-English and English-Italian.
= Three conjugation challenges, each with 50 individual conjugations, so 150 conjugation questions in each workbook:
= Conjugation Challenge 1: each verb conjugated across a range of pronouns, with students writing the corresponding English verb conjugation.
= Conjugation Challenge 2: gives the infinitive of each verb in Italian, specifying the target pronoun. Students write the corresponding verb conjugation.
= Conjugation Challenge 3: students write the corresponding Italian verb conjugation, and its infinitive, from an English prompt.
Each workbook is also accompanied by a 6-page answer key book which students find really useful, either to self- or peer-assess - this is also a great time saver for teachers, as well as a way of encouraging students to really assume more responsibility for, and independence in, their learning. The answer keys also provide students with an additional opportunity to engage with language and conjugation, and they genuinely enjoy correcting their own - and particularly each others' - work!
I encourage my students to visit the Notes and Next Steps template regularly, reflecting not only on the verbs and conjugations they feel confident about, but also how they think their general skills in Italian might be developing through the activity - and equally importantly, what they can reasonably do to keep improving. We also use their notes to guide and inform whole-group discussion about progress, which is a really useful activity too. Students are able to note down any new Italian verbs they learn, enabling them to build up a comprehensive verb vocabulary bank.
This sampler demonstrates the various conjugation challenges, with the answer key immediately following the relevant conjugation drills. There is also an exemplar verb reference list.
Please read the Terms of Use - the sampler is free to download, but remains copyright, all rights reserved. It may not be copied, rewritten, shared or distributed in any way.
GRAZIE MILLE E BUON APPRENDIMENTO!
Creative Commons "Sharealike"
Something went wrong, please try again later.
Report this resourceto let us know if it violates our terms and conditions.
Our customer service team will review your report and will be in touch.