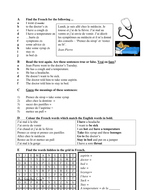 J'ai mal handout
This resource is designed for US teachers. View UK version .
Other resources by this author
A powerpoint activity to help students to understand the criteria by which their coursework will be marked. It is to be used with the AQA exemplar ...
ghbarnes
Introduction to countries, Metro 1, module2,1, country names and how to say 'en/au'
ghbarnes
Worsheet on near future - voy a... based on Listos 1, module 6.5 Este fin de semana
ghbarnes
Popular paid resources
PowerPoint and accompanying workpack designed to encourage pupils to use a variety of complex structures in their spoken and written French. An ext...
maryjane1969
This is a lesson I produced for my Lower Sixth to introduce the subjunctive. There is a worksheet to accompany the presentation with a fairly compr...
maryjane1969
Print out the cards and laminate them. Pupils work in pairs or small groups and race against each other to form the perfect tense with the cards af...
maryjane1969
New resources
Article and exercises on family topic - the nature of mother-daughter arguments. Practises conjugation/grammar section of AS exam. Pupils must fill...
leptir109
Full explanation of why accents are used in French including activities and a section for pupils to search in a dictionary and find accents they ca...
leptir109
Updated resources
An extract from 'About a Boy'. You could show students the clip for extra engagement! Can be used as cover or to enable students to focus on their ...
lhowellpratt
This set of resources is aimed at KS3 level students or beginner learners. It includes material to teach and practise the topic of "healthy li...
MrLoutre
I wanted my students to learn some facts about France. This is what I came up with. A power point which includes 50 slides containing detailed info...
labellaroma