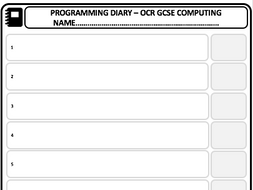 J276 Computer Science student diary
I am using this 'diary' that I created for my students to go with their coursework for the OCR Computer Science J276 GCSE. I created it in Powerpoint and each block represents one hour of the 20 hours that is allowed for the coursework.

If the student completes each section after every guided NEA hour that is undertaken, this will support their coursework really well as it gives a really good breakdown of what each student has achieved and how they have progressed and developed during the coursework 20 hour allowance.
Read more