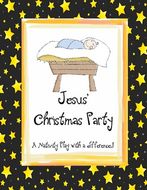 Jesus' Christmas Party - a Nativity Play with a Difference
The Nativity Story from an Innkeeper's point of view, who just wants a good night's sleep. Based on the story "Jesus' Christmas Party" by Nicholas Allan, and adapted for stage, this play is sure to have the audience in stitches whilst also delivering the Nativity Story in a different way.

A full pack of activities is also available to accompany the play.
Read more