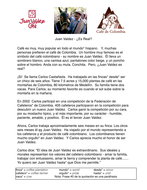 Juan Valdez: Spanish Read and Respond Activity
Who is the real Juan Valdez? This one-page article details the fun and fascinating story of Juan Valdez. Written with basic vocabulary and lots of cognates, this story is ideal for Spanish 1 and Spanish 2 students. Page 2 contains 3 response activities - draw a scene, and answer 4 T/F questions and 3 thought questions. Can be used as a class reading/decoding activity, as homework, as an assessment, or as a discussion starter. ¿Qué representa Juan Valdez? ¿Te gusta café?
Read more
Report a problem
Creative Commons "Sharealike"