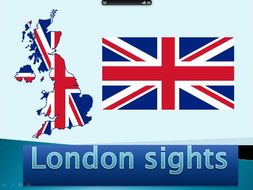 K, 1 &2 series of 5 cross curricular powerpoint lessons about London sights
K, 1 and 2 - A series of 5 consecutive power-point lessons about the sights of London (66 slides). Lesson 1 introduces London using the Union Flag as a starting point with learning focusing on the countries of Britain and the location of London. The pupils are encouraged to use a Project Book to record their journey through each lesson. Lesson 2 introduces some simple facts about London and focuses on Buckingham Palace. Pupils will create a simple comparative table which enables them to compare the Palace with their own homes, pose questions and draw conclusions. The lesson can be developed into Art/DT to design a flag. Lesson 3 focuses on the Changing of the Guard with a link to a short YouTube clip followed by a physical group activity. Lesson 4 recognition of London landmarks and a Math measurement activity with trundle wheels linked to Big Ben. There is also a short activity to develop understanding of Roman Numerals. Lesson 5 London Transport and a Math activity to devise the quickest routes on the Tube. This lesson includes an end of unit assessment to assess pupil knowledge through a task set by the Prime Minister.
Each lesson offers clear steps for pupils to work in partners, small groups and individually. Each slide can be printed separately to enable pupils to have access to information tables and data. At the beginning of each lesson there is a short recap activity to assess learning from the previous lesson.
Read more