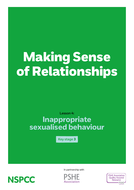 Key stage 3: Lesson plan 4 - Sexualised behaviour
Empowers children with ways to manage, resist and challenge sexual bullying.
Read more
About this resource
Info
Created: Jun 13, 2018
Other resources by this author
A leaflet on coping with exams at primary and secondary school. Includes a list of do's and don&'ts when preparing for exams and tips on how stay c...
NSPCC
This sample anti-bullying assembly tackles the issue of bullying in a sensitive and child friendly way.
NSPCC
A survey/questionnaire that schools can use to assess how pupils feel about bullying in their school. This can help schools to act on concerns rais...
NSPCC
Popular paid resources
Self Esteem / Mental Health PSHE or Tutor Time Resources. 1 hour PP, worksheets, clips, well differentiated, KS3/ KS4. These resources have been de...
EC_Resources
Powerpoint about STI's. Contains information about causes, symptoms along with graphic images. (I showed the images on the Powerpoint after pupils ...
leighbee23
A fun lesson for all students about being resilient students over the coming year, but still looking after their mental health. Perfect to foster t...
EC_Resources
Updated resources
These ten lesson and filler suggestions combine fun, learning and personal development, and most can be done outside. Each suggestion has its appro...
katewilliams_poetry
17 Resources Total. A unit of 5 x 1 hour long, fully resourced PSHE lessons focusing on students keeping good mental health. Perfect for Mental Hea...
EC_Resources
A great assembly/ tutor session for KS3 of KS4 to show Mindfulness can positively contribute to us becoming better learners. Videos and activities ...
Zenadee