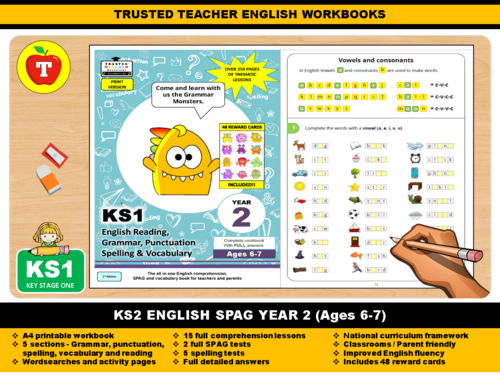 An English workbook with topics tested over 5 sections. Grammar, punctuation, spelling, vocabulary and reading comprehension. A complete workbook for ages 6-7. The book also includes 48 monster reward cards designed in powerpoint with shape tools. No need to order a book and wait for postage, get it in a few clicks.
If printing is a problem you can download the FREE whiteboard software OPENBOARD using the link below and import the file directly into the whiteboard.
http://www.openboard.ch/index.en.html
You will need a graphics tablet to write clearly however as it would prove difficult with a mouse.
The document consists of:
15 full comprehension tests
2 full SPAG tests (spelling punctuation and grammar)
5 spelling tests
10 spelling wordsearches
250+ pages of thematic grammmar. punctuation, spelling and vocabulary lessons.
Total pages 331 with FULL written answers.
1 copy with page borders
1 copy without page borders
Each section corresponds to the YEAR 2 targets and framework of learning objectives and covers almost all of what is required. Each exercise comes with a short explanantion of what is being taught with follow up exercises. The book is designed for students with on target to above ability in accordance with the national curriculum.
The workbook has full answers so students can actually mark their own work if they are able to. More information is available at the front of the book in the ABOUT THIS BOOK section.
(If possible please leave a review I would be very grateful for the feedback so I can improve my products further)
Tes paid licenceHow can I reuse this?
Something went wrong, please try again later.
Oh my god! I have never ever seen such a detailed book. I have looked through ever page carefully and not one mistake. My sister is really improving in English and now is having a lot of fun. Before I saw this person amazing worksheets my sister hated when it was school time but now she practically doesn't want to leave. Thank you for the amazing, fabulous, detailed, astonishing, astounding, bewildering and staggering books/worksheets.
<br /> 非常喜欢这本书,买给我儿子用,有图案更好的理解,增加了孩子的趣味,内容丰富。
这本书是我买给两个正在学英语的儿子的。我发现这本书非常有用,解释简单清晰,而且内容丰富,练习简单易懂,对于提高他们的英语水平非常有帮助。一本好书!
The content is excellent. Well constructed and interesting topics. The language is clear and concise very child and parent friendly. I will be using it for home learning and revision.
I really like this resource. It may not have lots of colourful pictures on each page but it has lots of content and the size of the font and layout is good. My daughter really enjoys the exercises and it has quite a few different activities to really get you thinking. The reading exercises are interesting and have good questions that test finding facts from the text and inferred meanings. The vocabulary section covers a lot of words and the SPAG and spelling tests are quite challenging at the end of the book. The planner is useful and it also includes the full national curriculum learning requirements at the back for all subjects, a proofreading guide and common exception words lists. Most of all my daughter likes the monster reward cards so far and her face lights up when she gets one. A bit of printing however but you can print double-sided pages or two pages per sheet which is still a good size.
Report this resourceto let us know if it violates our terms and conditions.
Our customer service team will review your report and will be in touch.