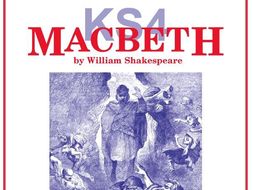 TES PICKS
KS4 Macbeth Scheme of Work
B and D Publishing's Macbeth resource pack, a scheme of work for teaching the play at GCSE. B and D Publishing's popular series of classroom support materials for KS4 Shakespeare provide a whole scheme of work. This pack is 60 pages long. A set of sample pages is available for free download here:
https://www.tes.com/teaching-resource/ks4-macbeth-resource-pack-sample-pages-11860541
The regular licence enables you to use this resource with your own students. Copy, edit and provide the material to those students you teach in any medium or format for the purpose of educating them and/or their private study/exam revision.
The school licence allows you also to share this resource with colleagues at your school.
Key Stage 4 Shakespeare packs are also available for the following plays:
Othello
A Midsummer Night's Dream
The Merchant of Venice
Romeo and Juliet
The Tempest
Julius Caesar
Much Ado About Nothing
Twelfth Night
Henry V
Richard III
KS4 Shakespeare resource packs contain scene by scene notes on all aspects of the play, story summaries and differentiated worksheets. Areas typically covered include: character, themes, imagery, language, cloze passages, revision questions, picture pages, written assignments, oral assignments, quiz pages, commentaries etc. The workbooks can also be used by pupils for GCSE exam revision.