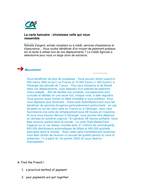 La carte bancaire
Reading composition based on the Crédit Agricole website (qu's in English, but could easily be changed if you wish).
About this resource
Info
Created: May 7, 2006
Updated: Aug 19, 2015
This resource is designed for US teachers. View UK version .
Categories & Grades
Other resources by this author
A step by step cribsheet to guide through making a bar chart in Excel.
ChilePhilly
A basic step by step start off to Powerpoint
ChilePhilly
A step by step guide to how to make countdown activities, hidey games and true/false activities for the interactive whiteboard
ChilePhilly
Popular paid resources
PowerPoint and accompanying workpack designed to encourage pupils to use a variety of complex structures in their spoken and written French. An ext...
maryjane1969
Print out the cards and laminate them. Pupils work in pairs or small groups and race against each other to form the perfect tense with the cards af...
maryjane1969
This is a lesson I produced for my Lower Sixth to introduce the subjunctive. There is a worksheet to accompany the presentation with a fairly compr...
maryjane1969
New resources
Article and exercises on family topic - the nature of mother-daughter arguments. Practises conjugation/grammar section of AS exam. Pupils must fill...
leptir109
Full explanation of why accents are used in French including activities and a section for pupils to search in a dictionary and find accents they ca...
leptir109
Updated resources
A revision booklet for students full of examples from the book which illustrates the four following themes: les SDF l'adolescence l'amour la solitu...
juliebarcelona
A SET OF 80 MATCHING GAMES CARDS SHOWING COUNTRIES, FLAGS AND CAPITAL CITIES OF 40 COUNTRIES WHERE FRENCH IS AN OFFICIAL LANGUAGE Students can real...
LivelyLearning
This set of cards consists of 130 card pairs with hundreds of English - German sentence pairs in a 26-page pdf file . It is meant to be used by lea...
OnlyTheBestOnes