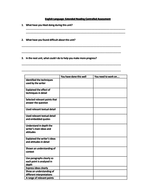 Learning from extended reading assessments
I created this handout after the Extended Reading English Language controlled assessment so students knew their strengths and targets.
About this resource
Info
Created: Feb 25, 2012
Updated: Aug 19, 2015
This resource is designed for US teachers. View UK version .
Categories & Grades
Other resources by this author
Some ideas to stretch and challenge the most able. Please let me know if you can think of any more!
Tashtee
Comparison extracts for the unseen part of the Talk in Life and Literature exam
Tashtee
Questions that can be used as a display or as a starter or plenary to get pupils thinking
Tashtee
Popular paid resources
10 fully resourced lessons to prepare students for the AQA English Language Paper 2, Section A exam: 'Writer's Viewpoints and Perspectives'. This r...
RojoResources
Children loved making pizzas at our Italian pizza class. Resources have been exported from an Activ-primary flip-chart. (Which also includes Italia...
jreadshaw
These 'Library Challenge' cards were made for my class library, but they could be used in a school library as well. The idea was just to get the ch...
sh2810
New resources
Pupils choose one of 9 questions in a fun and easy to tailor to a topic, interactive PowerPoint presentation. Quick, easy, fun and effective way to...
lordturner
Sorting task designed for students with autism / SEN This is designed to be used in different ways depending on ability level: * cut and laminate c...
jlp76
This resource is to help students succeed in the text comparison component of the Edexcel IGCSE English B exam, but could work for English A or oth...
gudrunbjorg
Updated resources
WRITING ACTIVITIES FOR AFTER SATS IN YEAR 6.
simon fox
Two sets of two texts with questions attached, designed to be used as practice for students studying Edexcel GCSE English Language. These have also...
Sazo123
This resource relates to St. George's Day (23 April). <strong>In contains:- </strong> A Presentation (48 Slides) on St. George. The pre...
Ro_Milli0110