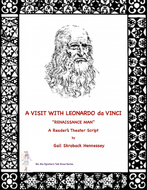 Leonardo da Vinci: A Reader's Theater Script
Studying the Renaissance? Studying famous artists in history?Need a biographical play to use with your students? Try my Reader's Theater Script on Leonardo da Vinci. Includes comprehension questions and extension activities. Great addition to a study of the Renaissance, art history or a Friday biography day! Part of my Ms. Bie Ografee's Talk Show Series, studio audience questioners ask da Vinci questions about his life.

Did you know that the most expensive book ever purchased was da Vinci's Codex Leicester? The work included his observation of water, the moon and fossils. Bill Gates paid $30,802,500 million dollars for the book!
Read more