Presentation of the French-speaking islands around the world, with exotic pictures.
Related resources
Popular resources by this author
Popular paid resources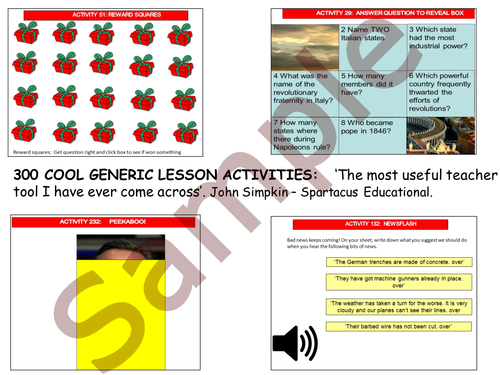 This is a 25% sample of my very popular resource. The full resource can be found by searching for '300 generic lesson activities'. (Following its success in the summer sale, I have kept the sale price of £3). The description for the full file is as follows: Create lessons in seconds with this HUGE PowerPoint of animated lesson activities. There are HUNDREDS of templates that you can over-type in seconds to create engaging lesson material. Highly praised by John Simpkin of Spartacus Educational and Mark Warner of Teaching Ideas. I am very confident you will like this. If you do, please click on my profile to see my other popular resources. Thanks (This file also has a bank of PowerPoint timers) The size of the file should show you how much stuff there is! Without sounding overly confident - it's the best resource out there! Many thanks Copyright T.Taylor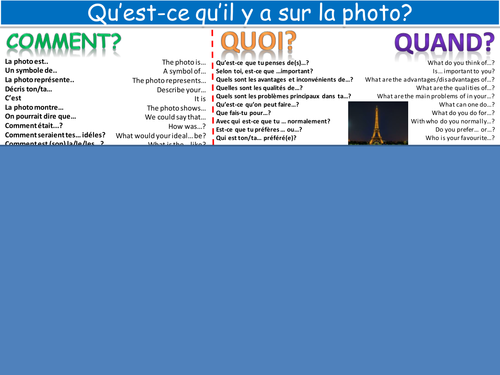 In line with the new GCSEs this is a double sided literacy mat. It features key vocabulary of how to talk about the image and the main questions which can be asked about the photos. It also includes 6 sample photos. Great laminated or stuck on tables to teach students how to pass this part of the oral exam. PLEASE NOTE TO SEE THE LITERACY MAT IN FULL YOU NEED TO DELETE THE BLUE BOX AFTER PURCHASING IT. THIS WAS ADDED SO PEOPLE DO NOT COPY THE RESOURCE FROM THE PREVIEW WITHOUT PURCHASE.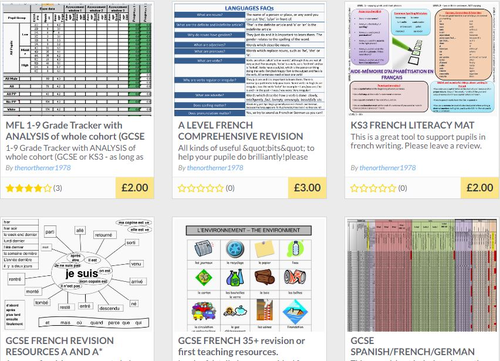 This package contains a range of materials for the teaching of KS3, GCSE and A level French. I have included some tracking documents using both the Old KS2 levels and the new Scaled score levels as a starting point. Each of the trackers comes with an analysis tool so that you know where you are with the cohort and you can identify the different groups of learners (PP, AEN etc). They are ideal for driving effective intervention. Please add me on Twitter @thenortherner19 for questions and updates. Resources include: A LEVEL FRENCH COMPREHENSIVE REVISION RESOURCES GCSE FRENCH 35+ revision or first teaching resources. EXTENSIVE PACKAGE GCSE FRENCH REVISION RESOURCES A AND A* ESSENTIAL TIPS GCSE SPANISH/FRENCH/GERMAN Tracking document with analysis tool KS3 FRENCH LITERACY MAT MFL 1-9 Grade Tracker with ANALYSIS of whole cohort (GCSE or KS3 - as long as you use 1-9) NEW MFL 1-9 Grade Tracker with ANALYSIS of whole cohort (USING SCALED SCORE KS2) 70 + AfL activities for all teachers