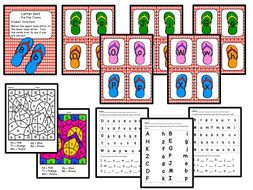 Letter Match with Worksheets - Flip Flop Theme
Students will match upper case letters with lower case letters with this literacy center. To make this self correcting, write the correct letters on the back of the cards. Four worksheets are included.

You will need to print out the center pieces. I suggest this center be laminated for long term use. Cut out and store the center pieces in a manila envelope or a Zip Lock baggie.
Read more