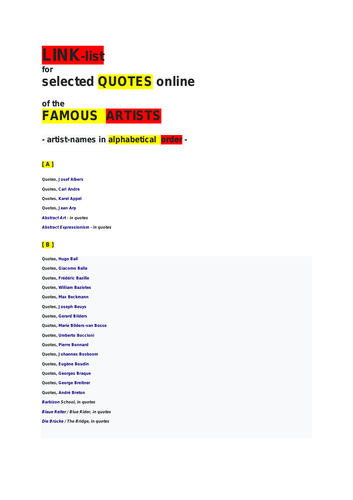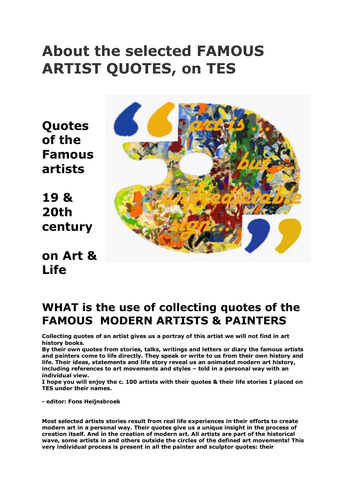 LINK-LIST for c. 150 Famous artists worldwide, in their quotes (incl. the free sources). As an essential part of understanding modern art history - free resource art history, for students, pupils and teachers
.
During several years I collected sourced quotes of circa 150 famous Artists, in modern art. It was my purpose to present in this way a kind of portray of each artist - in a selection of his or her quotes.
I have placed the artist-quotes in free resources on TES, and on the English Wikiquote as well. In the attached PDF you find c. 150 links to the artist-quotes - alphabetically ordered on their artist-names. Included are quotes which describe and explain the modern art-movements!
Of course you can find each individual artist on Wikiquote for yourself and up-to-date, under the name of the quoted artist!
I am a Dutch artist myself, and for several years I collected famous artists in their quotes. They helped me a lot to understand how modern art started and developed since c. 1850. Their quotes moreover illustrated why and how modern art-movements like Dada, Cubism or Surrealism emerged and developed.
The artist quotes picture very well the individual artistic life of the painters and sculptors, including their mutual influence and their individual inspirations for creating their modern art.
Every human being needs roots and an an environment; even artists! Their quotes illustrate this human basic-fact. They give us a precious view in the living kitchen of modern Art.
editor, Fons Heijnsbroek
Creative Commons "Attribution"
Thank you so much for this wonderful resource.
Report this resourceto let us know if it violates our terms and conditions.
Our customer service team will review your report and will be in touch.