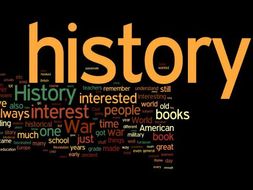 Literacy aids for the History Classroom
These three resources are designed to help learners quickly develop confidence in ther Secondary school history lessons. Easy to print and laminate as desktop workmats, or to place on display, they outline basic chronologies and illustrate some ways in which to start answering questions in an accurate and considered manner. They include 'fun facts' and are colourful to make them appealing to Year 7 learners.

Like these resources? Please have a look at my other resources or connect with me on social media.
About this resource
Info
Created: Dec 19, 2016
Updated: Feb 22, 2018
Get this resource as part of a bundle and save up to 71%
Other resources by this author
Medicine in History is a fun topic that brings Ancient and Medieval Civilizations to life. Class research the way that Medicine was practiced in th...
dmoorhouse
The Renaissance in Western Europe led to many changes in society and medicine. These worksheets provide a solid narrative to the main changes that ...
dmoorhouse
The Peasants Revolt. A series of resources designed to teach the causes of the Great Revolt of 1381 and re-enforce learners comprehension of the wa...
dmoorhouse
Popular paid resources
This lesson involves pupils working in groups to produce an election campaign for one of the claimants to the throne in 1066. (Before the Battle of...
leighbee23
Goes from the dinosaurs through key periods of history to the present day. Use MS Word to adapt it. I have added the Stone, Bronze, Iron and Middle...
MrCMaths
This is for any GCSE (or exam) subject. This download includes a generic (multi-subject) A3 double-sided DIRT worksheet and PowerPoint instructiona...
godwin86
Updated resources
Pupils define 'Humanism' as a hook. 'Did you know' - mix - pair - share activity to assess reasons for Sydenham's significane (Teaching instruction...
morlem
This bundle includes all of the escape rooms listed below. Important: All these products sell for $285; as a bundle they are 60% off, for $114! Eac...
ScienceSpot
This is a History revision powerpoint designed to cover the case study question: Did the Church help or hinder justice in the period c. 1000-1500?
Rebeccapayton