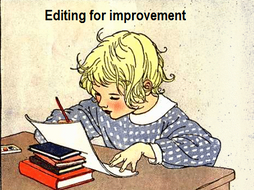 LNF based peer editing sheets for writing across the curriculum (non-literary texts)
A series of peer editing sheets for use across the curriculum, designed to develop writing proficiency without sacrificing attention to subject-specific content. Worksheets are differentiated into bronze, silver and gold levels, with increasingly challenging targets for each level in organisation, grammar, punctuation and use of language. Students simply follow the instructions on the sheet, looking for specific features in their partner's work and circling the corresponding recommendations accordingly. No specialist knowledge is required on the part of the classroom teacher.

For teachers in Wales, the targets are in line with those of the National Literacy and Numeracy Framework, with bronze targets aligning with the objectives for year 7, silver matching those of year 8 and gold matching those of year 9.
Read more