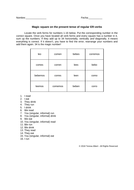 Magic square on Spanish regular ER-verb conjugation no prep practice
Students locate different conjugated forms of the verbs leer, comer, correr and beber and put the corresponding number in the correct square. Once they have located all verb forms and every square has a number in it, they sum up the numbers. If the numbers add up to 34 horizontally, vertically and diagonally, it means everything is correct. If it doesn't, they have to find the error and correct it so that the numbers add up to 34. 34 is the magic number!
My students love solving magic squares! It's a fun, self-correcting exercise that is just challenging enough. Enjoy!
Read more