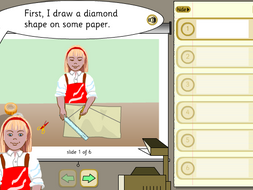 Making a Kite - Presentation
This is an interactive resource. Click through the presentation on making a kite, watching and listening to the children make their report. Change their personal, anecdotal reports into instructions. Rehearse with the pupils how they would instruct in the imperative mood or the impersonal, second person, present tense.

Note: This is a Flash activity and may not work on all devices and browsers. We recommend IE.
Read more
About this resource
Info
Created: Jun 10, 2010
Updated: Feb 22, 2018