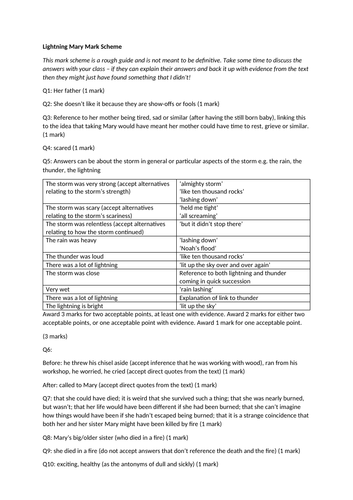 This is the mark scheme for Booklet 1 (see below for link). Currently I include mark schemes for the first five texts (Lightning Mary, Human Digestive System, Pets in Cold Weather, Jane Eyre, When You Grow Up) with the hope of completing and uploading the following 4 by the end of the week.
Please note: These mark schemes are a rough guide and are not meant to be definitive. Take some time to discuss the answers with your class – if they can explain their answers and back it up with evidence from the text then they might just have found something that I didn't!
For information about the process of creating these resources go to: http://www.thatboycanteach.co.uk/2020/02/getting-ready-for-2020-ks2-reading-test.html
I've done some analysis of text length, difficulty, question type, percentage of content domain coverage etc and am producing some practice material for year 6 children in the lead up to the SATS.
One of the main reasons for this is to practice test technique (by familiarising children with test-type questions and presentation) but also to practise/build the concentration, perseverance and determination that is needed to read long texts and answer lots of questions about them.
The idea is that two sets of questions (one fiction, one non-fiction) are answered back to back in a 40-45 minute period to improve children's stamina.
All texts contain a link to where I found them on the internet (mostly Nat Geo Kids and LoveReading4Kids) and some analysis of reading difficulty and word count.
Created using the templates I made based on the 2019 reading test: https://www.tes.com/teaching-resource/2019-ks2-sats-reading-test-questions-microsoft-word-versions-for-editing-and-adapting-12250260
I will add to this resources as I make more.
My suggested order of use:
Booklet 1:
Lightning Mary + Human Digestive System = 495 + 870 = 1365 words
Pets in Cold Weather + Jane Eyre = 650 + 807 = 1457 words
When You Grow Up + The Wrong Train = 700 + 800 = 1500 words
Henry 8th Wives + Armistice Runner = 748 + 774 = 1522 words
Booklet 2 (https://www.tes.com/teaching-resource/booklet-2-year-6-sats-prep-reading-comprehension-based-on-analysis-of-2019-test-12257463):
All About The Circular Economy + Louisiana's Way Home = 814 + 803 = 1617 words
Dr Jane Goodall Interview + The City of Secret Rivers = 789 + 789 = 1578 words
What is a Bushfire? + Floodworld = 657 + 896 = 1553 words
Tutankhamun + The Girl Who Fell From The Sky = 649 + 908 = 1557 words
Creative Commons "NoDerivatives"
Something went wrong, please try again later.
Thank you so much! This is a wonderful resource, which together with the guideline answers, will be invaluable in my tutoring!
Thank you! This is a really helpful resource- along with the texts and questions. A massive timesaver for frazzled year 6 teachers.
Report this resourceto let us know if it violates our terms and conditions.
Our customer service team will review your report and will be in touch.