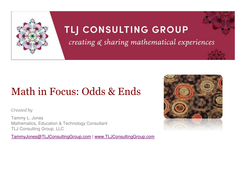 Math in Focus Odds and Ends
The following collection of 10 photographs can be used as journal prompts, discussion starters, bell ringers, or for centers, small groups, or learning stations. These pictures provide opportunities for students to engage in mathematics through looking at pictures of mathematics in the world. Facilitation notes are provided.

This resource is good for students with dyslexia and language-based learning deficiencies.

Read more