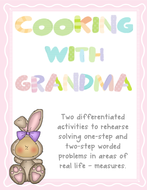 Maths Word Problems - Measuring Weight - Cooking with Grandma
Oh dear! Gran has a problem. She is trying to bake a cake, but she has lost her specs and can't read the measurements on the weighing scale. She knows how good you are at measuring. Can you help?

Two differentiated activities to rehearse solving one-step and two-step worded problems in areas of real life – measures.
Read more