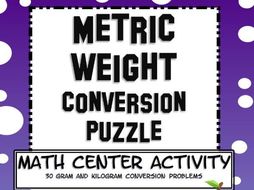 Measurement Metric Mass Conversion Math Center
This 30 problem metric weight conversion puzzle is ideal for engaging math center work, with problems that are all conversions between grams and kilograms, with some decimal use. This puzzle can be used by small groups, partners, or individual students. Also works great for those fast finishers! The individual triangles form a self checking hexagon shape once all the problems are solved.

Could be printed small and used as an activity in an interactive notebook.
Read more