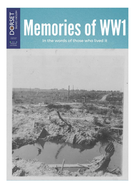 Memories of World War One, In the words of those who lived it
This Learning Pack, produced by the Dorset History Centre, is based around two soldiers from Dorset and fought and survived World War One. This pack contains copies of original sources from the depths of the county archives, as well as audio material from one of the soldiers, who discusses his life and experiences in the First World War. This pack is ideal for local history, or a study of aspects of the war. Each resource comes with its own set of questions and activity suggestions, and is easily accessible for a range of ages.

The Dorset History Centre would be happy to answer any queries about the pack or any topics it contains. We would love to hear your feedback, so please do contact us at www.dorsetforyou.gov.uk/dorsethistorycentre.
Read more