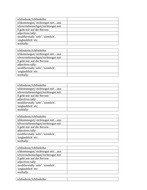 My family oral activity
Use in conjunction with My Family ppt - Question on board 'kannst du deine Familie Beschreiben' - instead of writing down responses, students' listening skills are honed and speakers challenged to use constructions seen from ppt in previous lesson - works well for class interviewing a number of people - must have ticks in all boxes by the time they have finished describing their family. Potential to get lots of adjective ticks etc.
Other resources by this author
Step by step worksheets taking you through formation of regular and irregular adjectives, both before and after nouns with exercises as you go along.
leptir109
Long (2 hour) worksheet - find the missing words, pick the right statements, translate these sentences - based on article about a racially motivate...
leptir109
Easy reading comprehension on my family with questions to answer in English and a writing task at the end.
leptir109
Popular paid resources
This worksheet requires knowledge of dates (see die Daten Schritt um Schritt 3C). This worksheet deals with how to describe and understand someone'...
vettyjames
This worksheet practises creating dates using numbers and months. There are 2 exercises (German to English and English to German) and all necessary...
vettyjames
this is an audit of the paper 2 topics and formats. An educated guess as to which topics and formats are on Paper 2 this year, May 2018. Based on t...
Juls2110
New resources
Quiz quiz trade cards for internet activities with gern and nicht gern and frequency phrases
nilex
This resource introduces 14 pets with a range of practice activities. It introduces the question 'Hast du ein Haustier?' and a range of possible an...
cgazzal
Reading and writing resources to support "in meinem Leben" and "Mein Vorbild". Easy to print and edit. Can be used as classwork...
rooney33
Updated resources
Basic PPT with the AQA Literary Texts from German Spec 1+2 papers for the new spec GCSE. Includes answers from the markschemes and key ideas are hi...
lydiadavies
A GREAT REFERENCE RESOURCE FOR SUPPORTING LEARNING IN YOUR CLASSROOM! Create an instant reference resource for students focusing on essential GERMA...
LivelyLearningClassroom
THREE CONJUGATION WORKBOOKS TO HELP YOUR STUDENTS GET TO GRIPS WITH CONJUGATING REGULAR GERMAN VERBS IN THE PRESENT, PERFECT AND IMPERFECT TENSE - ...
LivelyLearningClassroom
3 Resources

10% off

$6.00

$

5.40