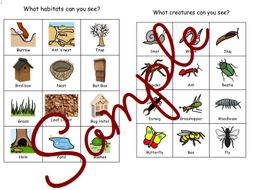 Nature Spotter Bundle
Includes 4 pdf downloads including:

Habitat Spotter
Nature Spotter
Creature (bug) Spotter
Bird Spotter

3x4 grid including word/picture symbol to support.
I use on nature walks around school grounds or beyond. Would be great for forest school activities to encourage children to investigate but respect nature. Generally get children to tick off as many boxes as they can and where possible maybe note down where they found the item.

Please note the images are based on British nature and wildlife.
Read more