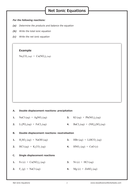 Net Ionic Equations
Chemistry worksheet covering the writing of total ionic equations and net ionic equations for:

* Double displacement reactions (precipitation reactions and neutralisation reactions)
* Single displacement reactions

Includes worked example and all answers.

A full preview of this resource is available at:
www.goodscienceworksheets.com/net-ionic-equations-worksheet.shtml
About this resource
Info
Created: Jul 21, 2016
Updated: Feb 22, 2018
Other resources by this author
Activity for for intermediate high school chemistry. Ion shapes designed for cutting out and laminating. Shapes include name and symbol of each ion...
GoodScienceWorksheets
8-page worksheet for intermediate high school chemistry. Comprehensive worksheet containing a variety of questions, including extension and further...
GoodScienceWorksheets
Year 7 Science (Australian Curriculum) The Scientific Method [BUNDLE] Save 30% off individual prices Includes the following resources: * Unit Outli...
GoodScienceWorksheets
Popular paid resources
OCR F321 and F322 Please comment!! revision summary and exam questions Covers both units with a double page on each modual and exam questions and k...
KS261
A summary of all the key points in each topic.
KS261
This pack contains: 1x 2018 Chemistry C2 Predicted Paper 1x 2018 Chemistry C2 Mark Scheme This paper contains predicted questions based on: Previou...
tingham2
Updated resources
Set of 12 posters based around the KS3 topic of Acids and Alkalis. Includes: Title Page What are Acids and Alkalis? Acid and Alkali Examples Identi...
Felt
AQA A-level chemistry unit 3.1.2 Amount of Substance - Lesson or Revision workbook with answers This workbook covers a whole unit of work combining...
Professor_Bunsen
New AQA A-Level Chemistry PowerPoint file - containing over 200 past exam questions and 250 slides! This is a well-organised, clear to read and use...
aewood1993