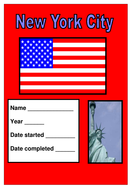 New York City USA STATES FACT SHEET AND READING SK
A list of the states in the USA with fun questions about them.
Read more
About this resource
Info
Created: Nov 9, 2011
Updated: Sep 3, 2012
Other resources by this author
These worksheets are based on a list found in the Dfes guide for spellings that should be known in KS3. This is just a start. Please give me feedba...
coreenburt
This set of worksheets is a section of Module 5 of the Burt Reading scheme. There are at present over 700 phonic worksheets in this scheme. They ha...
coreenburt
Fact sheet followed by true / false statements. This is part of a full booklet which will soon be available in its entirety (18 pages) on the new T...
coreenburt
Popular paid resources
10 fully resourced lessons to prepare students for the AQA English Language Paper 2, Section A exam: 'Writer's Viewpoints and Perspectives'. This r...
RojoResources
These 'Library Challenge' cards were made for my class library, but they could be used in a school library as well. The idea was just to get the ch...
sh2810
Children loved making pizzas at our Italian pizza class. Resources have been exported from an Activ-primary flip-chart. (Which also includes Italia...
jreadshaw
Updated resources
Year 2 and able Year 1 children will enjoy filling out this report form after your next class trip, and providing an illustration in the picture ga...
katewilliams_poetry
Complex Sentences Writing and Grammar / SPaG fun: 40 printable sentence-formation activity cards (colour and black and white versions). A flexible ...
FullShelf
This is aimed at KS3 but could easily be adapted for KS4. It runs through specific aspects of SPAG to check, gets students to create their own pers...
adelerobertson