Newspaper reports for The Peasants Revolt
Skills-based worksheet activities (differentiated - SEN worksheet, also) representing two opposing views of The Peasants Revolt. Sourcework - read both newspaper reports and answer questions on a) what they agree about and b) what they disagree about. Use in conjunction with the textbook 'Contrasts and Connections&' (or adapt this activity to your own text) to compare sources and to argue which sources support either the peasants or the king.
Last updated Mar 30, 2014, created Jan 20, 2013
Error occurred while adding this resource to your favourites list. Please try again later.
Ages
Categories
Thanks.

Nice to have the differentiation here thank you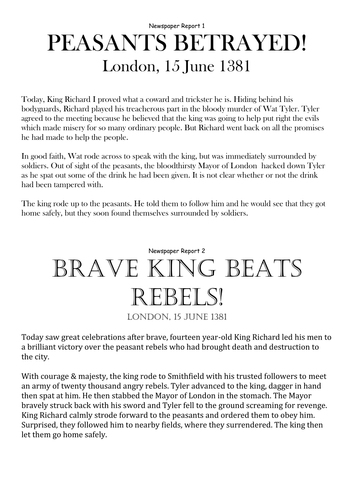 Downloads

1853

Views

3698

Created

Jan 20, 2013

Updated

Mar 30, 2014