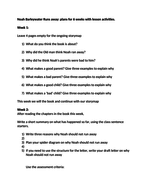 Noah Barleywater runs away scheme of work 6 weeks of work 5 lessons each
6 weeks of lessons for 5 lessons in each week for teaching Noah Barleywater runs away, potentially a book that can be a little dry and boring for the child! so I have designed some fun and engaging lessons on my weekends…and they went down a treat with my class! assessment criterias and structures for letter writing etc…
don't spend your saturdays on extensive planning like I did!
Read more