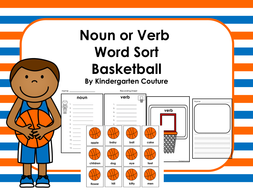 Noun or Verb Word Sort -Basketball Theme
Sports lovers will enjoy sorting nouns and verbs using this basketball theme center. There are 12 noun word cards and 12 verb cards to sort on the sorting mats. After students have sorted the cards they can record them on the matching recording sheet. There is also a page for them to write and illustrate sentences using nouns and verbs from the sort.
An easy to set up and easy to explain literacy center.
Read more